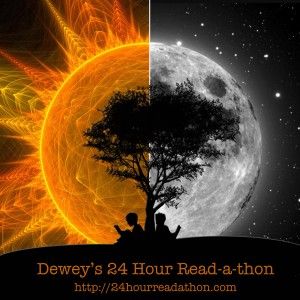 It is time for my favorite biannual reading event -
Dewey's 24 Hour Read-a-thon
. I will be out and about today, so I'm starting with Nicholas Sparks'
The Choice
on audio.
1) What fine part of the world are you reading from today?
I am in Columbia, SC, USA.
2) Which book in your stack are you most looking forward to?
I am looking forward to finishing the Caster Chronicles series with
Beautiful Redemption.
3) Which snack are you most looking forward to?
I will be snacking on fresh fruit today, and I'm always looking forward to that.
4) Tell us a little something about yourself.
Five children call me mommy including my 5 year old granddaughter, Heaven. I also have a 23 month old grandson. I moved to South Carolina from Oklahoma 8 years ago, and it was the best thing I'd ever done for myself. I'm reading more this year than I have in about 10 years, and I'm loving it. In addition to reading I enjoy baking, cooking, photography, traveling and sewing.
5) If you participated in the last read-a-thon, what's one thing you'll do different today?
I actually sat and read the majority of the day during my last read-a-thon, so my family had to fend for themselves. It felt so good to just relax and read. Today, I won't be sitting as much, but I'm going to enjoy it just the same.