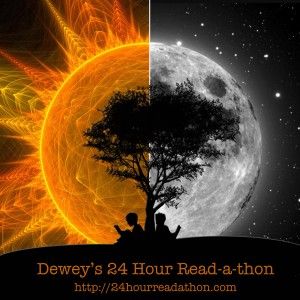 An Overdue Wrap-up
1. Which hour was most daunting for you?
The last hour I'm awake is always the most daunting. This time it was the top of hour 20 which was 3:00 a.m. in my neck of the woods.
2. Could you list a few high interest books that you think could keep a Reader engaged for next year?
I read books across the board, but the ones I find that keep me engaged when I get a little tired are those in the Young Adult, Fantasy and Graphic Novels genres.
I know there are a lot of folks who aren't
Twilight
fans, but I could read them all in a single sitting.
3. Do you have any suggestions for how to improve the Read-a-thon for next year?
I've participated the last two years, and I haven't found a single thing wrong with the way things are done.
4. What do you think worked really well in this year's Read-a-thon?
Even though I didn't participate in the mini challenges due to the fact I was out and about most of the day, I thought there were some
great
challenges. And I love the enthusiasm in the co-hosts' posts.
5. How many books did you read?
I listened to one full book for almost 9 hours and read half of one. In April, I think I will choose shorter books for the end.
6. What were the names of the books you read?
The Choice -
Nicholas Sparks (audio)
Beautiful Redemption -
Kami Garcia and Margaret Stohl
7. Which book did you enjoy most?
I enjoyed them both equally. I can never get enough of Nicholas Sparks, and I've been looking forward to the last book in the Caster Chronicles series. I was not disappointed.
8. Which did you enjoy least
?
Neither
9. I wasn't a Cheerleader, but I'm considering it for April
10. How likely are you to participate in the Read-a-thon again? What role would you be likely to take next time?
I will be participating in the next Read-a-thon. Reader and Cheerleader.
Hour 20
This is where I say good night. I have my Soy Caramel Macchiato to thank for helping me get this far.
I made it to page 235 in
Beautiful Redemption.
I took brief breaks to talk to Phil who, for some reason, chose tonight to talk about his very strong opinions on the failures of America's public school system. Anyway, I'll finish my book in the next couple days.
Hour 16
Good evening fellow readers, cheerleaders, and anyone else stopping by. I'm still wide awake and enjoying my day. I have finished listening to Nicholas Sparks'
The Choice,
and it was just as good as his other books but not quite as good as
The Notebook
.
I've never really been into audio books, but I enjoyed listening today while sitting in my sister's salon, walking through Sam's Club with Phil, doing a bit of laundry for my mother, and sitting in the Barnes & Noble cafe. I still prefer holding a book and flipping pages, but I'm not writing off audio books.
I'm getting ready to get comfortable on the sofa with
Beautiful Redemption
and a cup of mint tea
.
I'll check back in a bit.