Fall is finally here, so I figured it was fitting to provide an update on my summer bucket list.
We didn't do everything I wanted to do, but here is what we did have time for:
*

Go to

Riverbanks Zoo
We did not go to the zoo this summer.
*

Go swimming
Nope
*

Go to the beach - maybe try a new one
Phil and I went to Jacksonville Beach during our trip there. We're taking the kids in a couple weeks.
*

Pick blueberries
It rained a lot over the summer. On the days we were able to pick blueberries, it rained. The blueberry picking season was also cut short because of the rain, so, by the time the rained finally stopped, the u-pick farm had closed for the year.
*

Weekly family game night
We were unable to make this work. I'm going to continue to try, though.
*

Go to the water park
We did make it to the water park, and we had a blast.
*

Go to

WonderWorks
While we did travel to Myrtle Beach, we didn't go to Wonder Works or the beach.
*

Grill at the lake
This was for Phil, so he made sure we did this even though it started storming while we were there.
*

Teach Adrian and Tonya how to bake bread
Negative. Adrian knows how to bake cinnamon rolls (a yeast bread) and quick breads, but he's never baked any other breads. Tonya is eager to learn how to make dinner rolls, so I'll carry this one over to the fall.
*

Try three new cupcake recipes
I tried two new cupcake recipes over the summer - this Sweet Tea Cupcake and the Ultimate Chocolate Cupcake.
*

Visit

Discovery Place
We did go to Discovery Place, and I enjoyed it as much as the kids.
*

Read Charlotte's Web to Heaven
Heaven spent the majority of the summer with her mom, so, while we started the book, we didn't finish it.
*

Have a picnic at the park
I'm the only person in my family interested in having picnics at the park, but that doesn't stop me from trying. Maybe another time.
*

Host a Will Smith movie marathon
Yes we did, and it was
great
to chill out and watch movies all day with my family and my sister's family.
*

Participate in the library's summer reading program
Adrian and I signed up for the program but didn't update the online form when we completed a book.
*

Be a tourist in our city
Nope.
*

Visit a new city in South Carolina
Not really. We went with my sister's family to help my nephew, Nathan, move in to his dorm. We had lunch there, but we didn't do much else.
*

Attend the annual

Peach Festival
Phil and I took my mother to the Peach Festival, and it was very peachy. We had two different peach drinks, peach cobbler with peach ice cream and one other peach dessert.
*

Go to the drive-in
Nope.
*

Visit the library - a lot
We made tons of trips to the library, but we didn't do much visiting. Most of the times we went to pick up books we had reserved or drop off books.
*

Make sidewalk art
The little time I had with Heaven, she wasn't interested in playing with sidewalk chalk.
*

Bake baklava
On Saturday, the last day of summer, Adrian and I did indeed bake baklava using this recipe, but we used store bought phyllo. I think we could've gotten away with using half the syrup.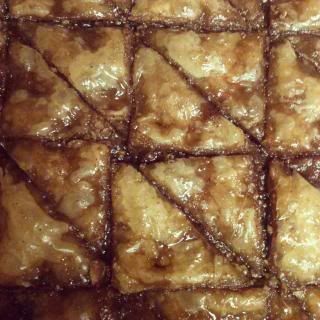 *

Go bowling
We did not bowl at all.
The summer wasn't what I expected, but we made the most of it.
So, what's my plan for the fall? Some of the things we didn't get to do over the summer, and this