It has been a little while since I've done this type of post, or any kind really, so let's catch up.
1. There's a lot of rain in our forecast. Again. By mid-July, it had finally started to feel like summer after having about 30 days of rain with a sprinkle of sunshine, and now everything is wet and gloomy again.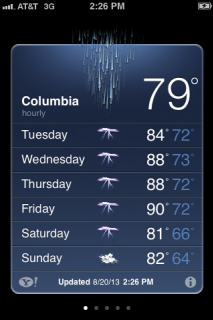 2. I unintentionally took a break from all social media. I'll browse my Instagram feed for a brief moment when I upload my
August Break
photo, but I don't check it several times a day like I usually do. I've missed a lot on Facebook since I only log in when someone sends me a message or one of my sisters want me to see something. I can't remember the last time I was on Pinterest, and it's a good thing I'm always logged into Twitter on my phone because I don't even remember my password it's been so long since I've been on. It has been a nice and much needed break, though.
3. I also unintentionally neglected to keep up with my blog friends. I've commented on a few posts here and there, but I haven't stopped by the blogs I usually read every day. I intend to change that this week.
4. Heaven and Adrian have started school bringing an end to our summer break, but we have one month until the official end of summer which means we still have time to work on our
summer bucket list
.
5. One of the things I love most about the kids being in school is our routine. We know what's happening when, and I love it. I don't mind being spontaneous every once in a while, but I live for schedules.
6. The number one thing I dislike about the school year is the traffic. It's horrible! I get spoiled over the summer with a shorter commute time to and from work, but it all changes one week before school begins when teachers return to work.
7. I've found a little bit of that peace I've been praying for. I'll tell you about it later.
8. Adrian and I are enjoying the Project FIT study we're part of. The first two weeks were filled with games about health and fitness and height, weight and body measurements. We also had to wear an activity monitor 24 hours a day the entire two weeks. It wasn't so bad once we got used to it being there. During the next three sessions we discussed hypertension, sleep and diabetes and the different ways they're related to obesity. It has been quite interesting so far. We have five more face-to-face sessions.
9. I signed up to be part of a small group at church for six weeks. We meet at someone's home once a week to discuss the current series which is called "Step Up". I usually stay away from anything that would put me at the center of any discussion, but I needed this.
10. Today's August Break prompt is Taste: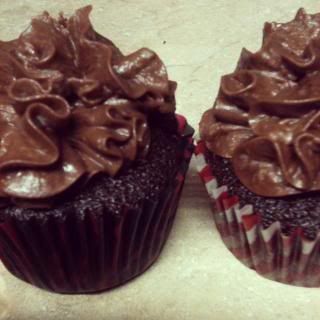 I was asked to make double chocolate cupcakes for a birthday at work. I heard they were pretty tasty.