I had a pretty good, laid-back weekend. Phil turned 43 on Saturday, and, while he's not big on birthdays, I did make him a Red Velvet Cake that we shared with my sister, Tonya's, family.
Today I thought I would join Kenlie at
All the Weigh
for Friend Makin' Mondays.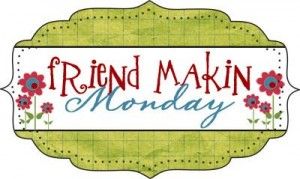 1. What is your favorite color?
Turquoise
2. Share one or more of your talents.
I am a
great
baker.
3. If you were spending the day getting to know someone new, where would you want to go?
I would take them to an art museum.
4. What is your favorite meal?
Pinto beans and cornbread
5. Do you prefer to text or talk?
It depends on how busy I am. I enjoy talking on the phone, but texting gives me the freedom to respond whenever I'm able.
6. Share something about yourself that might surprise someone that you're getting to know.
I like country music just as much as I like R&B.
7. Do you color your hair?
Two of my sisters, Tonya and Juanita, are hair professionals. Juanita used to put a black rinse in my hair because she thought my brown hair looked dull, and Tonya has given me highlights once but won't do it again because my hair is so fine.
8. Do you wear glasses or contacts?
Contacts
9. What is your favorite breakfast food?
Oatmeal with raisins or slivered almonds
10. Would your friends say that you're sarcastic?
Probably not, but Phil and Adrian would
11. Do you prefer salty or sweet?
Sweet and preferably chocolate
12. What is the first thing you notice about the opposite sex?
Height. There are a lot of short men in South Carolina.
13. What is the last movie you watched?
Brave
14. Are you religious?
I am a Christian, but I don't consider my religious.
15. Are you a neat freak, a slob, or somewhere in between?
I'm going to have to say neither. If I lived alone, I would be a neat freak, but I have a family who inevitably always leaves a sock in the middle of the floor or an unused glass on the table or a bowl in the sink instead of the dishwasher or...
16. Share something from your bucket list that you hope to do someday.
I would really love to visit Russia.
17. Are you a risk taker, or do you prefer to play it safe?
I prefer to play it safe.
18. Have you ever worn braces?
I've never needed them.
19. Would you rather spend an evening at a theater or at a club?
Definitely a theater
20. If you could have three wishes, what would one of them be?
That's always a hard one because I have everything I could ever want. I could always use a little more cash, though, so I suppose I would wish for money times three.
Hop on over to
All the Weigh
to get to know some other bloggers.